Back to the Past for the Future
"Jayce"
Tolivar's Jack Daniels @Shelian
DOB: Sep 5, 2020 | #3 Black (BbDD) | vWD Clear | DM Clear | DvDOB Clear |
24 Hr Holter 0 PVCs (7/2023) | Echocardiogram (7/2023) Normal | 
DCM 1 Hetero | DCM 2 Homo | Narcolepsy Clear| Thyroid Normal | 
Liver/Kidney Normal | Troponin/NT-ProBNP Normal 
Sire: Tolivar's Jack Frost On Ice
Dam: Jesaran's Child of Mine
owned by: Shelian Dobermans & Tolivar Dobermans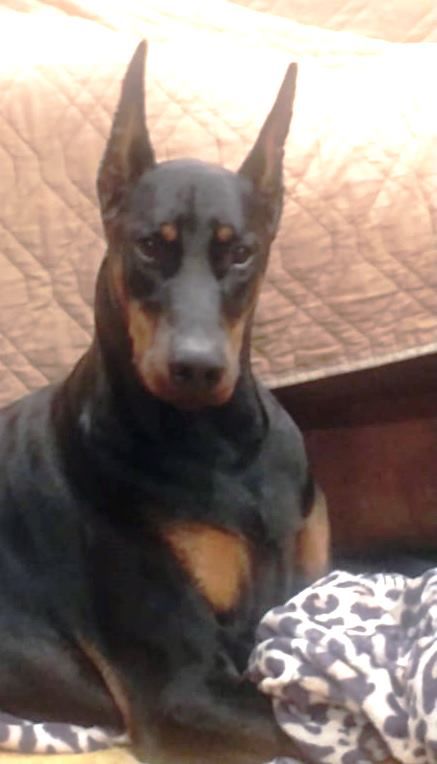 In November of 2020 we drove cross country from SC to MT and back to SC with Jayce and his brother.  Jayce's paternal grandfather "Banner" (Tolivar's Strike Up The Band), left this world in 1996 at the age of 12.  In 2015 his breeder/owner did a breeding using Banner's frozen semen and from that breeding came Jayce's sire; "Jack"(Tolivar's Jack Frost On Ice).  Jayce Joins our family and our hope is that he will add Diversity and help continue the health and longevity we have enjoyed with our Dobermans.
Ch Tolivar's Strike Up the Band LC-12D

Ch Arco Dob Mann WAC BFL-1 LC-11D

Ch Tolivar's Boo Radley Dob Mann LC-11D

Ch Tolivar's Aristotle of Azteca LC-11D

Goldgrove Saraswati v Tolivar

Tollelane's Chance v Goldgrove

Tollelane's Zena Warrior Princess

Goldgrove Hot 'N Starstruck

Ch Gold Grove's Concrete Cowboy LC-13D

Am Can Ch Sherluck's Pretty Woman CD RE ROM

Jesaran's Child of Mine v Tolivar

Eagle Ridges GoodTime Charlie LC-11L

Ch Kachina's Time Machine LC-10D

Ch Kachina's High Chaparral GHC-T WAC LC-13D

Ch Manafi Kachina Whistle Stop

TKC Sable Too v Eagle Ridge

Eagle Ridges Brandy Alexandra

Jesaran's Learning To Fly

GCH Sharjets Hard Spun CD RN ROM

Ch Finika's Z-Man v Del Mar WAC

Ch Sharjets Starr Attraction CD CGC PD1 RE ROM LC-14D

Jesaran's In From Above NA NAJ LC-13D

Ch Sherluck's Rock-et Man LC-13D